Welcome to
Passmed
Passmed is an online medical exam revision platform with high quality question banks that mirror the AMC MCQ exam. Our question banks are continually revised and updated by qualified doctors based on exam takers feedback and medical board requirements to offer you the best preparatory material to pass your exams.
Q BANKS
Over 2000 AMC past paper MCQ's
EXAM MODE
Practise under timed exam conditions
UNDERSTANDING
Clear, detailed explanations and answers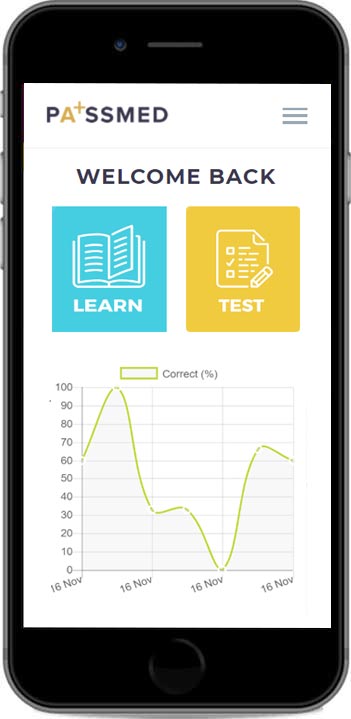 FOCUSSED
Filter questions based on speciality, total number and previous performance
UP TO DATE
AMC MCQ question banks updated regularly
RESULTS
Visualise your progress and areas of improvement

what our customers say
Testimonials
"Really helped me to prepare for the exam in terms of content and conditions in which it is taken"

Dr Bembroke

"I tried a few online q banks but found this one the most useful."

Alisha

"Seems to be regularly updated and quite a new resource compared to other ones"

Dr M

"Very helpful, thank you"

Sahara
Focused
Learning
Our powerful Qbanks are supported by high quality, to-the-point explanations that clarify which answers are correct and provide a clear understanding of the question topic
Personalised
Feedback
All study sessions are recorded on your personalised dashboard and provide you with insights as to your performance and progress. It allows you to highlight areas that need more work.
Mobile Learning
Anywhere
Over 2000 MCQs with a focus on quality and not quantity. We only include the most relevant content for that exam to ensure that your time is spent efficiently preparing and learning.
Frequently Asked Questions
FAQ
Start Studying
"The secret to getting ahead is getting started"